In the original sense, Leche de Tigre (meaning Tiger's Milk), is the marinating liquid left on the plate after having finished a Ceviche, Peru's famous appetizer which impresses with its simplicity, freshness, and Peruvian flavor.
Since forever, this liquid infused by all the flavors and healthy nutrients of the fish, the aji, the onion and lime juice, is spooned after the meal to enjoy even the last drop of Peru's national dish, to boost the libido (here supposedly the tiger comes into play) or to ease the discomfort of a hangover supposedly bringing the dead back to life.
However - depending on how you look at it - clever entrepreneurs or creative minds, further developed the original Leche de Tigre, so the simple leftover marinating liquid of Ceviche, promoting it as stand-alone drink: first as hip savory, in most cases non-alcoholic (some bartenders would add a shot of Pisco) cocktail and later, adding other ingredients, as sort of a healthy, true Peruvian smoothie everyone should consume to add some more vitamins and minerals to their diet.
Even though some people say that Leche de Tigre is just a liquified Ceviche with less fish and lots of things that don't belong into Peru's famous appetizer, today, Leche de Tigre is highly popular. It is made at home or served in (seafood) restaurants as an apéritif or starter and in bars as a cocktail. And while everyone has his or her own "secret" recipe, main elements include the classic Ceviche ingredients: fish, lime juice, aji and onion. Additionally, in most recipes, fish stock, celery, garlic, ginger, cilantro, and sometimes evaporated milk is added. All the ingredients are blended, poured into a simple or fancy glass, nicely decorated or not, and then served as an apéritif, starter, or cocktail.
Making Peruvian Leche de Tigre is simple and a matter of minutes. Below find a basic (!) recipe which gives you a good introduction and can be adjusted to taste, for example by adding other seafood.
Basic recipe for Peruvian Leche de Tigre
Ingredients:
100 g (3.5 oz) fresh, white fish filet
120 ml (1/2 cup) freshly squeezed lime juice
100 ml (a generous 1/3 cup) fish stock
1/4 (about 50g/1.7oz) red onion
1 clove of garlic
small thumb-sized piece of ginger
1/2 - 1 stick of celery
2 - 3 stems of fresh cilantro
1 - 2 tsp salt
1/2 - 1 tsp pepper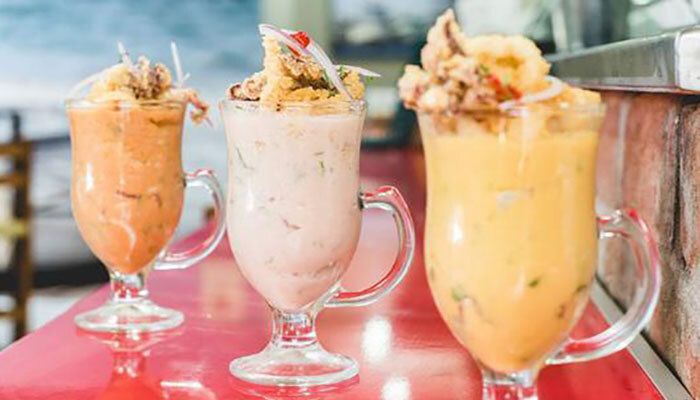 Preparation:
First, prepare all the ingredients: cut the fish into small pieces, squeeze the limes, prepare the fish stock, slice the onion, celery and aji into small pieces, mince the garlic and ginger.
Place the fish into a food processor and add the lime juice and fish stock. Leave for about 10 seconds.
Then add all the other ingredients, including 5 ice cubes, and blend until well combined. The texture of Leche de Tigre varies from smoothie-like to creamy to thin. So, if too thick for your liking, adjust by adding some more fish stock and lime juice. Adjust seasoning to taste. And ready is your Tiger's Milk.
Pour it into glasses, add some more ice cubes and decorate with a slice of lime, prawns, cooked choclo, cancha, onions and / or cilantro.
Enjoy!