Queso Rojo, Red Cheese, is a fresh cheese, which is made only in the small community of Lluta in the Colca Valley, about four hours from Arequipa. It has a pleasant, unique milky, and salty flavor and is used in many traditional dishes of the Arequipa region.
Queso Rojo is produced using full-fat, raw cow's milk from animals grazing freely all year long on pastures near the Lluta village at an altitude of over 3000 m (9,800ft), which gives the milk, and later the cheese, a unique and distinctive flavor. The beautiful red color of the cheese and the salty flavor derive from red salt that till today is mined at an ancient salt mine nearby.  
How Queso Rojo from Lluta is made
Queso Rojo is only made in Lluta by peasant families in their home-dairy or by local small-scale, artisanal cheesemakers. While each family and each cheesemaker has a "secret" recipe handed down for generations, generally speaking, after milking the cows and filtering the raw milk it is immediately processed. Without heating, rennet is added to the raw milk and left until the milk coagulates. After breaking down the curd mass with a wooden spoon, the mixture is strained to remove most of the whey.
The curd is then put into round molds, traditionally made of woven rope, which give the cheese a lovely corrugated outside, and lightly pressed to remove more whey. Afterwards, the cheese is covered in plenty of crushed red salt from the nearby mine and left to rest for anything between a day and a week before consumption.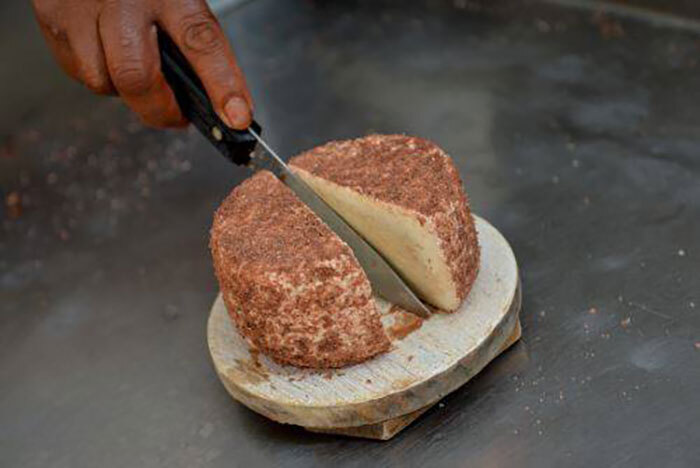 How does Peruvian Queso Rojo de Lluta taste
Thanks to the highland milk produced by year-round free-range grazing cows and the locally mined salt, Queso Rojo is a characteristic cheese of the Lluta valley and full of Andean flavors. You taste the distinctive milk, which seems to be infused by a touch of herbs, and, of course, a hint of the unique salt. The texture is moist, however, the longer the cheese is stored the firmer and drier it gets.  
Popular dishes with Queso Rojo de Lluta
Queso Rojo is used in the region in sandwiches, salads, empanadas, local soups and stews, or sauces, such as Salsa Blanco (a cream of wheat, milk and cheese). The most popular and known dishes often containing this unique cheese from a small community in the Andean highlands – at least if you eat them in the region - surely are Chupe de camarones (Arequipa's famous shrimp chowder made of shrimps, cheese, yellow potatoes, milk, beans, rice, eggs and corn), Pastel de Papa (a Peruvian potato cake from the Arequipa region), Rocoto Relleno (Stuffed Peruvian rocoto chili from the Arequipa region) and Solterito (a Peruvian salad made with beans, Queso Rojo (or Queso Fresco), tomatoes, onions, potatoes, choclo and rocoto).