The weather and climate in Lima are nothing you would expect when travelling to a city located just 12° south of the equator. Instead of tropical conditions, Lima's climate is usually described as mild throughout the year without noteworthy rain, making the Peruvian metropolis one of the driest capitals in the world.
In short, Lima features sunny, moist and warm summers (from December to April) followed by cloudy, damp, and cool winters (from May to November).
Content overview:
Reason for Lima's unusual climate and weather
The reason for the unusual climate and weather conditions in Lima lies in the surrounding topography. The Peruvian capital is located directly on the shores of the Pacific Ocean in an arid region of plains and the valleys of the Rimac, Lurin and Chillon rivers that rise to the east to the foothills of the Andes mountains.
The cold Humboldt Current, one of the world's major upwelling systems, which flows north along the western coast of South America from southern Chile to northern Peru, prevents warm tropical waters from the north reaching the Peruvian central coast and moderates the heat of the tropical sun. However, instead it produces high humidity with clouds and mist, especially in the winter months. Additionally, the Andes mountains to the east of the city block tropical conditions from the Amazon basin, including heat, rains, and storms, reaching the coast.
This unique situation is responsible for Lima's lovely warm and sunny summers and its cool, damp, and grey winters.
Climate of Lima
Despite being in the tropics, Lima is a subtropical desert with an arid and mild climate. Warm, sunny and pleasant summers (from December to April) are followed by cool, humid and cloudy winters (from May to November).
During Lima's summer months, fog can form in the early morning hours, which usually is ousted quickly by plenty of sunshine and pleasant temperatures. During Lima's winter months, temperatures are still considered mild, but the seemingly never ending grey and cloudy sky, lack of sunshine, high humidity, and regular drizzles in the morning and evening hours increase the feeling of cold.
The Seasons in Lima
While Lima's weather conditions are unique, at least the seasons in the Peruvian capital are easily described as there are only two notable distinctive weather conditions: summer from December to April and winter from May to November.
Some say that May and November are transition months in Lima. However, in most years already in May the sky is grey, temperatures drop and you clearly feel winter is there and in November temperatures might increase and the overcast sky might lighten here and there, but it's still winter, at least for Limeños.
Summer in Lima
By the end of November or the beginning of December, the mist and persistent clouds over the Peruvian capital finally lighten, humidity lowers and temperatures increase. Day by day Limeños experience less overcast days and it seems Lima slowly awakes from a deep slumber. Finally, around Christmas time, summer arrives in the capital of Peru. Besides some quickly passing early morning fogs, it's sunny, warm, usually never too hot, but still humid and muggy.
Temperatures reach a very pleasant 25°C (77°F) to 28°C (82°F) by day and around 18°C (64°F) by night. From Christmas to March, Limeños try to get out of the city as much as possible and spend their free time either at the beaches of the capital or head south and enjoy their time. Unfortunately, already by April summer ends and winter is knocking on the door.
Winter in Lima
From April onwards, slowly but surely temperatures decrease, humidity raises, and cool air moves in from the ocean and condenses in the atmosphere. By May, Lima once again is covered in a blanket of clouds, mist, and fog. On many winter days, morning and/or evening drizzle, locally called garúa, are a common occurrence. Temperatures in winter reach around 17°C (62°F) by day and 11°C (52°F) by night.
But don't let yourself be fooled by these quite moderate numbers; it can get cold in Lima's winter months. Grey sky for weeks, no sunshine, high humidity, no heating in most buildings and once in a while drizzle makes winter in Lima a quite clammy and cool affair. No wonder you find scarfs, gloves, woolen jumpers, warm jackets and winter boots in the stores. So, be prepared and better pack a nice, warm sweater and a pair of thick socks.
Temperatures in Lima
The average temperatures in Lima range from around 15°C (59°F) in winter to about 26°C (78°F) in summer. However, temperatures as low as 8°C (46°F) and as high as 33°C (91°F) have been recorded over the past 4 decades.
February is usually the hottest month in Lima, while August is the coldest. March and April compete for being the month with the most daily sunshine hours.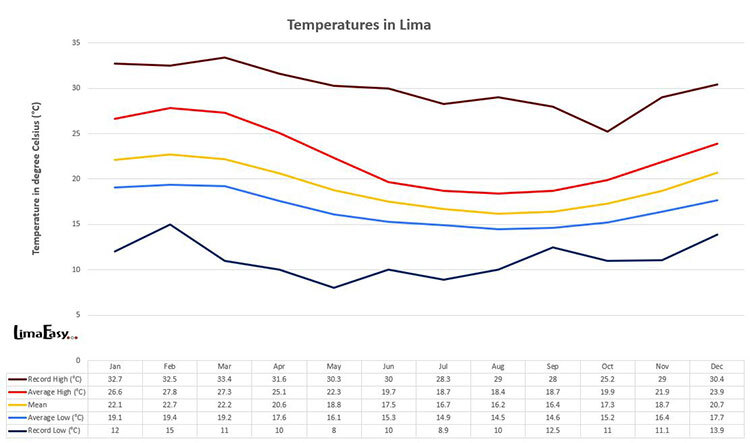 Rainfall in Lima
Real rainfall is extremely rare in Lima, making the Peruvian metropolis after Kairo the second driest capital in the world. However, while it practically never really rains in Lima, you still have precipitation in the form of mist or light drizzles, especially in the winter months.
And probably a few times per century, Lima experiences heavy showers, which, as the Peruvian capital doesn't have a proper drainage system, causes immediate flooding.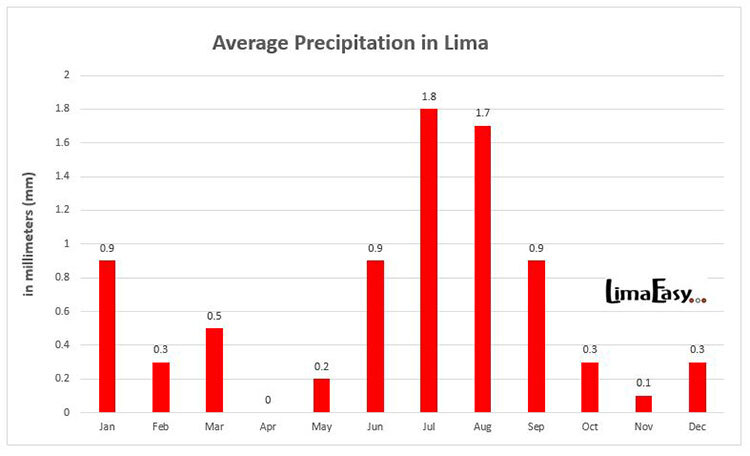 Humidity in Lima
Lima has an average annual humidity of 83%, more than double the average humidity of most deserts. Main culprit for it is the cold Humboldt Current, which produces plenty humidity with clouds, fog, and mist. The most humid months are surely July, August and September (on average around 85%), while December and January (on average around 81%) usually have the lowest humidity.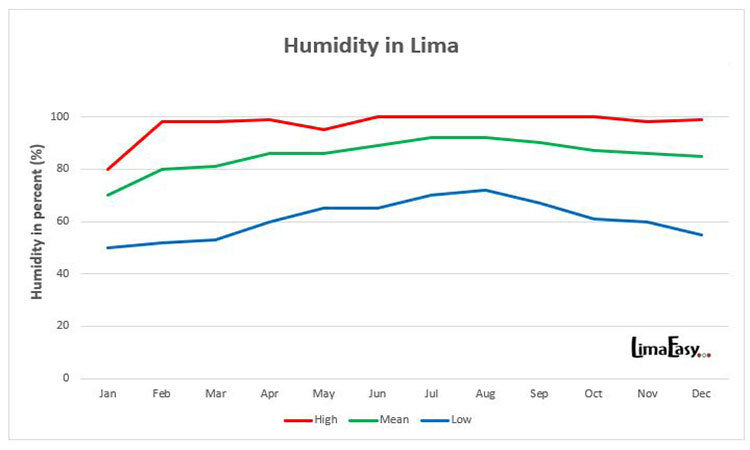 Sea Temperatures in Lima
Due to the cold Humboldt Current, which brings an extraordinary richness of marine life to the Peruvian coast making it one of the richest areas in the world in terms of biomass and diversity, the water temperatures are generally low and swimming is a really "refreshing" experience. While during the summer months, temperatures between 19°C (66°F) and 21°C (70°F) make it possible to take a quick swim, in winter, sea temperatures drop to an average of 17ºC (62°F) and are often even below that.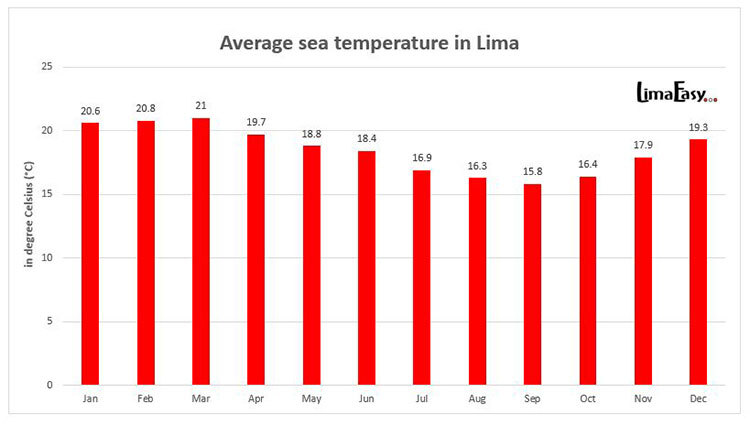 Sunshine and daylight hours, sunrise and sunset in Lima
Sunrise and sunset in Lima don't significantly differ throughout the year because of the city's proximity to the equator.
In the summer months, the sun rises somewhere between 05.30am and 06.00am, in winter more or less around 06.00am and 06.30am.
The sun sets around 06.30pm in summer and around 06.00pm in winter.
The longest day in Lima is in December with 12:50h; the shortest in June with just 11:30h.
While Lima experiences an average of 7 sunshine hours per day from January to April, between June and September, you can expect on average 1 (yes, only one) sunshine hour daily, making Lima the least sunny city during that time in South America.
Lima's Micro-climates
Above we described "the" seasons, or "the" climate of Lima, or "the" temperatures, or "the" rainfall. Unfortunately, that is not 100% accurate. Lima doesn't have one established climate in the whole city, especially not in the winter months. The cold Humboldt Current and the rise in elevation from sea level in the west to the spur of the Andes mountains in the east create several micro-climates. There are big differences regarding sunshine hours, temperatures, precipitation, and humidity, but as well as in the feeling of being comfortable between the districts directly on the coast and those further to the east.
While districts directly at or near the ocean such as Magdalena del Mar, Miraflores, Barranco, Chorrillos and parts of San Isidro and Surco experience longer winter months with lower temperatures, more overcast days, more fog, more drizzle, and more humidity, the further east you go the conditions gradually change to drier and warmer weather with more sunshine, less fog and mist. In La Molina or Ate Vitarte, for example, it's much more pleasant in winter, with less overcast days, less humidity, and slightly higher temperatures. And the most eastern districts of Lima, Chosica, Cieneguilla and Chaclacayo, even have spring-like temperatures and sun throughout the year.
On the other hand, in summer it can get hot, humid, and stuffy in the city if you aren't directly at the ocean. Here as well, the further east you go, the more pleasant and moderate the weather conditions get.
UV Radiation in Lima
Throughout the year, summer and winter(!), Lima has a quite high sunburn producing ultraviolet (UV) radiation with an average UV Index in summer of 6-7 (high) and in winter of 5 (moderate). However, especially around midday (between 11.00am and 02.00pm), it's not unusual that the UV Index reaches 8-10 (very high) or even 9-11 (extreme).
In summer, when the sun is shining brightly down from the sky, most people are aware that it might be a good idea to use a sun lotion with a high protection level. However, on overcast summer days and especially in Lima's winter, when clouds and mist cover the sky, most won't think of Lima's high UV radiation, which can cause skin irritations, bad sunburns, and other skin damages. So, especially if you have sensitive or pale skin, it might be wise to consider using a sunscreen with a high SPF to protect yourself as well on cloudy and misty days and in winter.
Best time to travel to Lima
While the best time to travel to Lima is surely during the southern hemisphere summer months, so from December to April, the Peruvian capital presents itself from its best side with clear skies and lots of sunshine from around mid-January to the end of March.
However, these months are also the hottest, with day temperatures usually ranging from around 25°C to 27°C, but over the past years regularly hitting 30°C or above. The high humidity makes it feel even hotter and, at least if you aren't directly at the ocean enjoying a light breeze, Lima can become a hot, sticky, and unpleasant place, especially during the midday hours.
Additionally, starting around mid-December summer holidays begin (they end usually at the end of February) and everyone who can afford it gets out of the city either to the beaches to the south or north of the city or travels to the provinces to visit friends and family. So, as everywhere around the world, during the summer high season prices for accommodation and transport skyrocket. Those who stay in Lima during summer head outside to restaurants, bars, open-air activities or to the city's beaches whenever possible, so, the popular places in town and the playas along the Costa Verde are often crowded, especially on the weekends.
As most Lima visitors not only visit the Peruvian capital, but often continue their travel to the Andean highlands or the Amazon rainforest, where the best time to travel to is between June and September during the dry/drier season, which is the worst to come to Lima, a good compromise to still have pleasant weather in Lima and already good conditions in the Andes and jungle might be April and May, perhaps even November, even though it's still pretty overcast though already warmer in Lima. And as you are then traveling during low season, you usually won't find overcrowded tourist attractions and prices for accommodation and transport are acceptable.
What to wear in Lima in summer, winter and in-between
For visiting Lima (and Peru) expensive and possibly striking designer clothing is in most cases absolutely unnecessary. Generally speaking, wearing comfortable, breathable, and durable clothes as well as comfortable shoes is the best way to dress.
If you visit Lima in summer (January to April), pack light summer clothes, but as well a Jeans and sweater as it can get a bit fresh in the evenings, especially if you are directly at the ocean.
If you visit Lima in Winter (July to October) don't be fooled by the moderate temperatures you read everywhere. The seemingly never ending grey and cloudy sky, fog and mist, lack of sunshine, high humidity, regular drizzles in the morning and evening hours and the lack of heating in most buildings makes it cool for some and really cold for others. While here and there you might see a foreigner running around in shorts and T-shirt in the middle of August, Lima's coldest month, most Limeños and foreigners, who have been living in Lima for a long time, wear winter clothes including long-sleeve shirt, thick sweater, thick winter jacket, scarf, gloves, thick socks, and boots. So, depending on your personal perception, you might need some warm clothing despite the mild temperatures.
If you visit Lima at the end of summer / beginning of winter (May, June) or at the end of winter / beginning of summer (November, December) temperatures are still or already moderate and thanks to a lower humidity, less grey and overcast skies and more sunshine the weather feels more pleasant. So, again depending on your perception and if Lima has a good or bad day, you might be fine with summer clothing or need long trousers/jeans and a thick jumper/jacket. As it might be very unpleasant in the morning, nice around midday and terrible in the evening, best dress in layers.
Weather and Climate in Peru
Due to its diverse geographical and topographical conditions, Peru features 28 of the 32 world climates and a large variety of micro-climates. From desert climate to mountain climate to tropical climate and anything in between can be experienced in the country. In order to do justice to Peru's varied climatic conditions, and give you an extensive inside into the weather conditions in the different regions of Peru we dedicated a separate article to the Weather and Climate in Peru.