A large part of Peru's heritage and national identity is reflected in the country's diverse cuisine. So it's no wonder that Ceviche, also spelled Cebiche, which is considered Peru's national dish, has its very own national day on June 28 of each year.
Most probably originating over 2000 years ago, when the Moche people "cooked" raw fish in tumbo juice and seasoned with aji and salt, and then later refined by the Incas, who marinated raw fish in chicha, a fermented corn beverage, the Ceviche we know today was born when the Spanish conquerors brought limes to Peru.
Today, the traditional Peruvian ceviche comprises just five simple, (at least on the Peruvian coast) easily available ingredients: fresh, raw, white fish filet and onions cooked in freshly pressed lime juice and seasoned with Peruvian ajis and salt. The result is a perfect balance between the fresh fish flavor, the refreshing acidity of the lime and the spiciness of the aji.
The simplicity, freshness and flavor of this famous Peruvian appetizer and lunch that comes in countless regional variations and today as well in many creative interpretations reflects like no other the cuisine of Peru's coast and is part of the national heritage.
Preparing Ceviche is quick and simple. Find some tips and a traditional Ceviche recipe in our article "Peruvian Ceviche".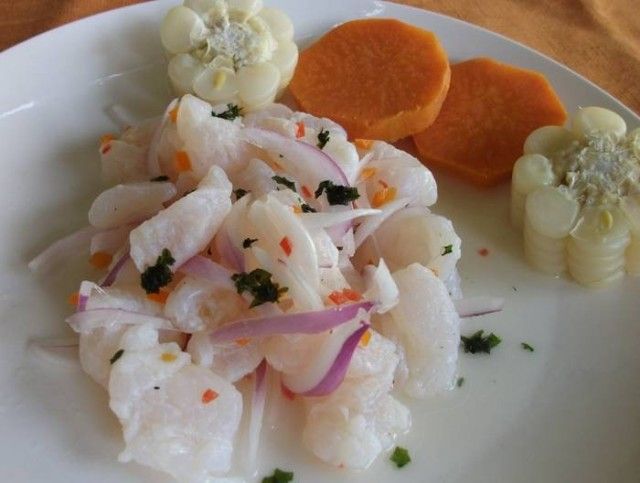 Typical Peruvian Starter & Appetizer
Ceviche, also spelled Cebiche, is not only one of the most popular dishes in Peru and the pride and joy of all Peruvians, but as well the Peruvian ...
On and around the National Ceviche day, restaurants and hotels offer special menus and partly interesting and creative interpretations of the dish. There are food fairs and ceviche competitions, especially in Lima and even abroad to honor and celebrate one of Peru's key dishes.