Each year around August 5, the citizens of Motupe, a small town about 80 km (50 miles) north of Chiclayo in the Lambayeque region, and worshippers from across the country pay homage to the Cross of Chalpon with a large pilgrimage festival.
The tradition started in the mid-19th century, when Padre Juan, a hermit Franciscan priest also known as Padre Abad, appeared in the Motupe area and lived a secluded life in the mountains nearby dedicated to praying and worshipping God and mother nature. He only came to town once a week to celebrate the mass with the citizens and baptize children.
After he disappeared one day, people learned he had built somewhere in the mountains a wooden cross that would protect the town. A search for it was unsuccessful.
Years later the citizens of Motupe received the message of Padre Juan's deaths and shortly afterwards a huge flood was predicted, leaving the citizens frightened. Remembering Padre Juan and his cross, the citizens once more set out in search of it, hoping it will bring them protection.
On August 15, 1868, the cross was finally found in a cave on Mount Chalpon and carried to Motupe, where the locals ecstatically celebrated and worshipped it. The town was, of course, spared from any disaster and the large wooden cross was returned to its original place after some time.
As word got around about the discovery of the cross, some faithful began visiting and praying at its site. Miracles occurred, and over time an ever-increasing number of pilgrims came to the cross. Each year the festivities surrounding the Cross of Chalpon grew larger and the importance of the cross in this northern region of Peru might be compared to the Lord of Miracles in Lima.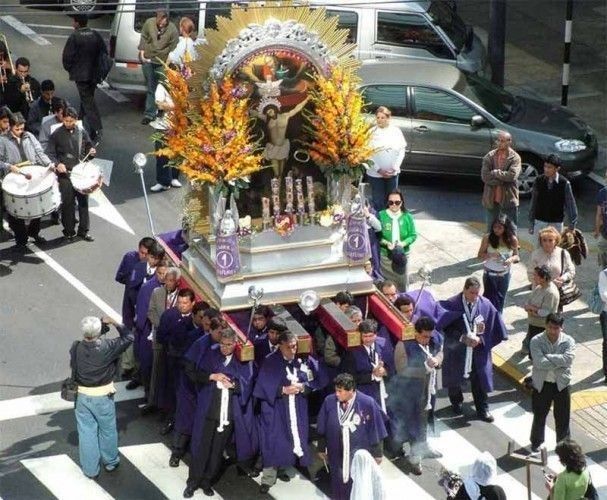 Peruvian Public Holidays & Festivities
October is the purple month in Lima and Limeños pay homage to their most venerated religious figure: El Señor de los Milagros or also known as Cris...
Today each year around August 5, Motupe is visited by thousands of devotees to take part in the pilgrimage festival. Many pilgrims walk barefoot as a sign of their great faith.
The festival last about ten days and includes carrying the cross down the mountain through the smaller villages Zapote and Salitral to Motupe, processions, stands offering dishes typical to the northern regions of Peru and religious objects along the way and in town, masses, praying and blessings, lots of cañazo (a regional cane liquor), dances, music and fireworks and of course a procession to bring the cross back to its cave.
August 5, the principal day of the festivities, starts with a morning mass at the Church of San Julian in Motupe. Afterwards the wooden cross is carried into the church where worshipers can visit it the whole day. In the evening, the cross is carried into the streets for a huge procession that last throughout the night.