After the controversial removal of the popular Martin Vizcarra on November 9, 2020, which many Peruvians, political analysts, and the media, considered being a coup d'état, Manuel Merino, the President of Congress, was appointed as new Peruvian president and immediately formed a far-right government.
Peruvian November protests 2020
Showing their outrage over the president's removal from office and their rejection of Manuel Merino as their new president, huge protests broke out throughout the country, including in Lima, Arequipa, Chiclayo, Cusco, Huaraz, Iquitos, Piura, Tacna, and Trujillo, where tens of thousands especially young Peruvians, who supported Vizcarra and approved of his anti-corruption efforts, demonstrated.
The protests were largely nonviolent until Peruvian police tried to crack down the protests with disproportional violence using tear gas, batons, and rubber bullets to disperse the crowds. The confrontations wounded hundreds of protesters, and more than 40 were allegedly extrajudicially detained and / or went missing. Human rights organizations condemned the police response as heavy-handed and violent.
When two protesters in their early twenties died after being shot by police on November 14, 2020, the majority of ministers from Merino's government resigned from office; under mounting pressure Merino followed them a day later.
Congress voted to replace him with Francisco Sagasti, one of the few members of congress who opposed Vizcarra's second impeachment.
President Francisco Sagasti from November 2020 to July 2021
After Vizcarra's removal from office and Merino's resignation, Francisco Sagasti, who aged 76 has had a long career of work in international economic institutions outside of the domestic political culture of Peru, was appointed as interim president until his, or more correct President Kuczynski's presidential term ended in July 2021.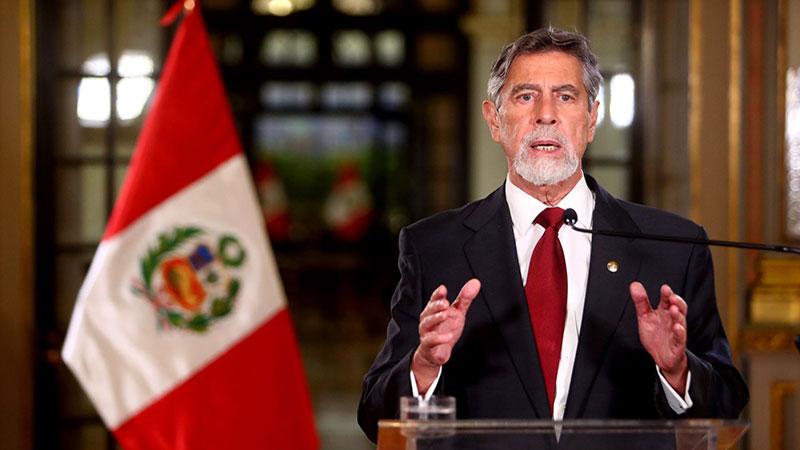 Sagasti has always seen himself as being a centrist, stating that "Since college, many leftist movements have tempted me, but I don't think you have to destroy everything to create new things. ... That is what makes me a center person. I am a person with a more reformist conception of things." Sagasti as well is considered a moderate technocrat capable of avoiding controversy and calming down social conflicts. His government saw itself as a "transitional and emergency government" managing the affairs until a newly elected president and his cabinet was taking office on July 28, 2021.
Even though he only was an interim president, he had a clear vision of his time in office. His goals were to manage the Covid-19 pandemic in Peru, fight corruption, foster a friendly and stable economic environment and promote education in rural areas. However, as his predecessors, Sargasti had a hard stand against Congress. Nevertheless, he sucessfully resolved social conflicts during his presidency and got peaceful presidential elections of the ground. At least, until the results were announced.