After the resignation of Peruvian President Pedro Pablo Kuczynski (PPK), Martin Vizcarra, First Vice President and Peruvian Ambassador to Canada, was sworn in as new Peruvian President in March 2018 and was supposed to finish PPK's term in July 2021.
Being one of PPK's closest allies, the business friendly, a civil engineer, former Governor of the Moquegua region (2011 - 2014), Minister of Transport and Communications under PPK and Peruvian Ambassador to Canada, maintained the same economic and foreign policies as the former president and continued to support a neoliberal economic development focused on foreign investment while being independent from any political parties or ideologies. In his first speech before Congress Vizcarra promised to encourage growth, combat corruption, and proposed a social pact putting emphasis on education and social integration - at least the latter he already successfully did in Moquegua. He called for a better cooperation and for putting differences aside for the better of the country.
However, as his predecessor, the new president had a hard time gaining a foothold and getting anything done. Like Kuczynski, Vizcarra lacked popular support and had to work with a hostile Congress which still was controlled by the Fuerza Popular (Popular Force party) under Keiko Fujimori, daughter of former President Alberto Fujimori, and which still was more than happy to block anything not fitting the own power-political interests and still wasn't prudish to spread incapability and corruption allegations against political opponents ad nauseam instead of putting their own house in order.
Vizcarra's fight against corruption
Nevertheless, Vizcarra pushed forward. With the Odebrecht corruption scandal in full swing (see under President Pedro Pablo Kuczynski) and four former Peruvian presidents, including Alejandro Toledo (2001-2006), Alan Garcia (2006-2011), Ollanta Humala (2011-2016) and his wife Nadine Heredia as well as Pedro Pablo Kuczynski (2016-2018), numerous politicians, including Keiko Fujimori and nearly half of the members of congress, other high-ranking officials, judges, lawyers and public servants under investigation, some in pretrial detention including Keiko, others already sentenced, the President dedicating himself to once and for all fight and end corruption in Peru by implementing strict anti-corruption measures. Being once again blocked in congress, Vizcarra took a critical step and decided to include Peruvians in the decision on how to move forward, which gained him enormous popularity with Peruvians across the country.
He proposed a four-part referendum and in December 2018 Peruvian voters could decide on how judges and prosecutors are appointed, on the regulation of the financing of political parties, on prohibiting the immediate re-election of congress members and on replacing the unicameral Peruvian Congress by a bicameral body. While the proposal to replace the country's unicameral congress by a bicameral body - which was weakened by the opposition and in the end wasn't even supported by Vizcarra himself anymore - failed with only 14.9% of the votes, 87% of Peruvians voted for the proposed reform of the judicial system, 85% voted in favor of stricter financing regulations for political parties and 85.2% supported the end of immediate re-election of congress members. Vizcarra won and assured his commitment to respecting the citizens' will, but his and the country's political problems were far from solved.
The political farce in congress continued over the next months. On September 30, 2019, the frustrated Vizcarra had enough, dissolved the Peruvian Congress and called for snap elections for a new congress to be held on January 26, 2020. Keiko Fujimori's Fuerza Popular (Popular Force party) lost its majority in congress and centrist parties, which more likely would support President Vizcarra's agenda, gained. However, problems with congress remained.
Corona virus in Peru
Then in March 2020, the Corona virus arrived in Peru. Taking the spreading of the virus, chaotic states in hospitals and deaths in other countries, the state of the public Peruvian healthcare sector, which already under normal circumstances might be considered disastrous, and the fragile health of many Peruvians into account, President Martin Vizcarra had to act quickly. And he did; however, some criticized that his measures were over the top, will ruin the economy and bring Peru and its citizens to the breaking point while others accused him of only reacting to the approaching health crisis and this too late and not firm enough.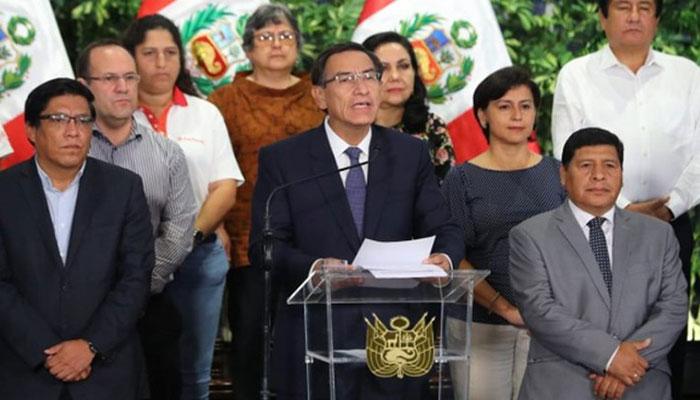 Anyway, Vizcarra introduced some of the strictest and longest anti-Corona measures in Latin America declaring a Public Health Emergency and a State of Emergency including closing all borders and suspending all international and national travel which surprised thousands of tourists who got stuck in Peru for weeks, suspending all work in the public and private sector, implementing strict quarantine regulations and prolonged curfews, suspending school, introducing mask and face shield obligations, etc.
For several reasons Vizcarra's efforts couldn't stop the spreading of the virus, leaving the country with one of the highest death rates worldwide. Additionally as everywhere in the world, the measures heavily affected the Peruvian economy which heavily relies on international trade, tourism and a huge informal sector. While Peru's GDP plummeted, unemployment and (extreme) poverty skyrocketed.
Vizcarra's removal from office
Already under huge political pressure, members of Congress opened impeachment proceedings against Vizcarra on grounds of "moral incapacity" in September 2020, accusing him of having misused public funds and influence peddling, which he survived. In November 2020, the president wasn't so lucky. After being charged with having taken bribes during his time as governor of the Moquegua region (which he denied), he was removed from office for being "morally incompetent". Manuel Merino, the President of Congress and opposition leader, succeeded him as President of Peru.
Read the next chapter in Peru's history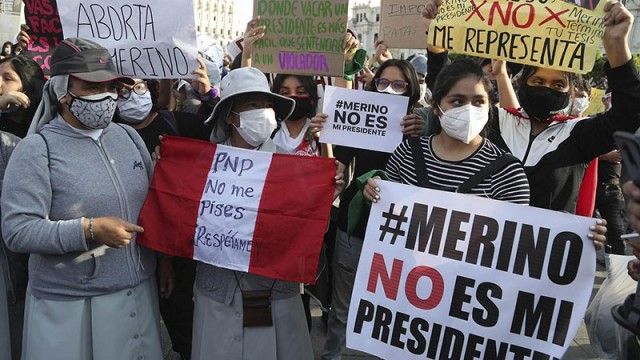 Political History of Peru
After the controversial removal of the popular Martin Vizcarra on November 9, 2020, which many Peruvians, political analysts, and the media, consid...