In the 1990 elections, voters concerned about the disastrous economic situation, inflation, the increasing threat from Peru's terror groups, drug trade and corruption, chose relatively unknown Alberto Fujimori, the son of Japanese immigrants and an agricultural-engineer-turned-politician, as president.
Fujimori's economic achievements
He immediately implemented drastic economic reforms and austerity measures - which he opposed before his election - to tackle the inflation (which dropped from 7,650% - yes, seven thousand six hundred and fifty percent - in 1990 to 139% in 1991 when a new currency the Nuevo Sol was introduced), but found opposition to further drastic measures.
In 1992 Fujimori stunned Peruvians and the outside world with a coup against his own government; he suspended the Congress, revised the constitution, exiled opponents such as former Peruvian President Alan García and called for new congressional elections. This unique move was welcomed by disillusioned voters. With a more flexible Congress, Fujimori proceeded to govern without hindrance. He promoted neoliberal economic policies privatizing state-owned companies, removing investment barriers and significantly improving public finances.
Fujimori's anti-terrorism measures
Having seized near-dictatorial powers, Fujimori as well carried out a number of successful antiterrorism campaigns. He granted the military the power to arbitrarily detain any suspicious person and disbanded Peru's congress and courts, which he said were limiting his ability to crack down on terrorism. Within a few years, Fujimori had captured most of the leaders of the rebel groups, including Abimael Guzmán, the leader of the Shining Path, and terrorism subsequently declined sharply.
Thousands of Peruvians were convicted of terrorism-related charges and sentenced to life imprisonment by military courts. Human rights activists accused the Peruvian military of committing widespread human rights abuses during the crackdown, including several massacres, where entire villages were wiped out and the jailing of thousands of innocent Peruvians, at times subjecting them to torture and rape.
In 1995, Fujimori won a second term. While his policies led to a rapid recovery of the Peruvian economy, his dictatorial regime seemed to worsen. After Fujimori's constitutionally questionable decision to seek a third term, he was declared the winner of the 2000 presidential elections.
Fujimori's resignation and convictions
A bribery scandal which first only included the bribery of a congressional representative by Vladimiro Montesinos, the head of the secret police and one of Fujimori's closest advisers, later also organized money laundering and widespread government corruption, arose just weeks after Fujimori began his third term and brought political and economic chaos to the country. Fujimori claimed his innocence, but still resigned from office in November 2000 while being on a state trip to Japan. Since his resignation, a number of human rights abuses and violations came to light. In spite of efforts to prosecute Fujimori and have him extradited, he emerged from his Japanese exile on his own supported by many Peruvians to run for the 2006 presidential elections, but on its way to Peru was taken into custody under outstanding warrants for corruption and human rights abuses in Santiago, Chile, and later placed under house arrest until his extradition in September 2007.
Even though Fujimori declared his innocence on countless occasions, dismissed the judicial proceedings against him as "politically motivated" and still had many supporters, in his first trial the court found him guilty of human rights abuses, stating that the charges against him have been proven beyond all reasonable doubt. The judges convicted Fujimori in 2009 to 25 years in prison for ordering the Grupo Colina, a military anti-communist right-wing death squad created during Fujimori's regime, to commit the Barrios Altos Massacre (November 1991) and the La Cantuta Massacre (July 1992) as well as for being involved in the kidnappings of Gustavo Gorriti, a Peruvian journalist, and businessman Samuel Dyer. Other trials followed where he was found guilty of bribery, corruption, illegal wiretapping, and embezzlement.
Read the next chapter of Peru's history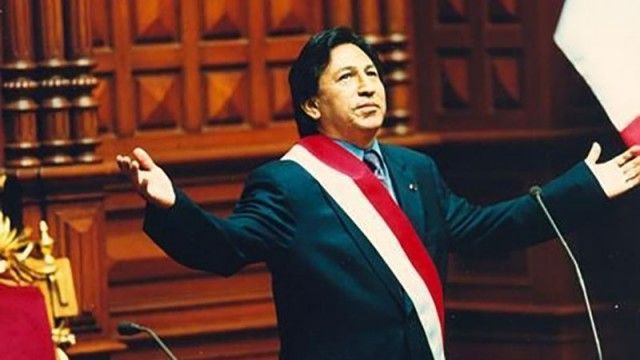 Political History of Peru
After Fujimori's resignation, a caretaker government under Valentin Paniagua oversaw democratic presidential and congressional elections in April 2...