In February 2020 Mi Primer Festival (My First Festival), the international film, audiovisual and new media festival for children and adolescents, returns to Peru in its 6th edition.
Featuring (mostly) free screenings, amazing workshops, interesting talks and of course short films, movies and series which compete in eight categories (adolescents, animation, documentation, fiction, little filmmakers, made in Peru, movies, web and TV series), Mi Primer Festival addresses a young audience, so the next generation of movie lovers and film makers.
The weeklong festival nurtures the love for movies, audiovisual and new media content as well as the kids' sense of discovery, excitement and creativity giving them the opportunity to actively engage in a growing film culture.
Program of the Mi Primer Festival 2020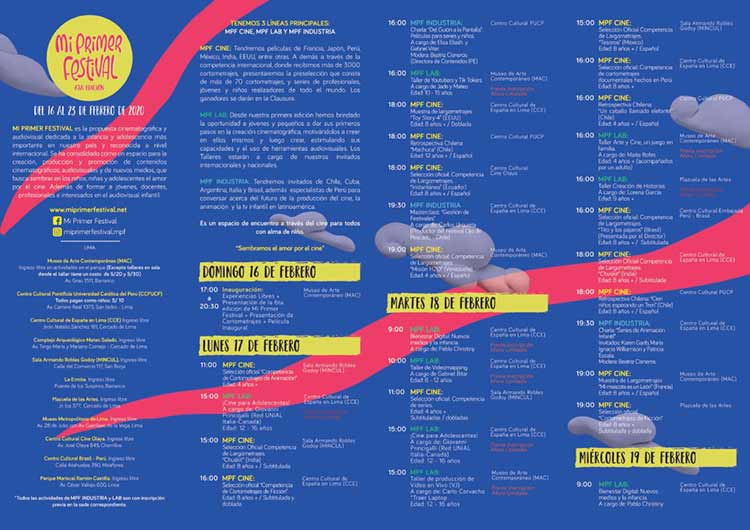 Locations of the Mi Primer Festival 2020
The competitions, screenings, workshops and talks are held at 10 locations in Lima and additional 7 locations in other Peruvian cities.
Museo de Arte Contemporáneo (MAC) - free for activities in the park, workshops S/ 20 or S/ 30 -Av. Almte. Miguel Grau 1511, Barranco
Sala Armando Robles Godoy (Ministerio de Cultura) - free - Calle del Comercio 117, San Borja
Centro Cultural Pontificia Universidad Católica del Perú (PUCP) - S/ 10 - Av. Camino Real 1075, San Isidro Lima
Centro Cultural de España en Lima (CCE) - free - Jirón Natalio Sánchez 181, Lima City center
Complejo Arqueológico Mateo Salado - free - Av. Tingo María y Mariano Cornejo, Lima City center
Museo Metropolitano de Lima - free - Av. 28 Julio with Av. Garcilaso de la Vega, Lima City center
La Ermita - free - Puente de los suspiros, Barranco
Centro Cultural Cine Olaya - free - Av. José Olaya 645, Chorrillos
Parque Mariscal Ramon Castilla - free- Av. César Vallejo 600, Lince
Centro Cultural Brasil – Perú - free - Calle Atahualpa 390, Miraflores
Chiclayo - Cineclub de Lambayeque
Cusco - Asociación Charlie Quispe
Huancayo - Cine municipal Incontrastable
Iquitos - SACHA CINE
Piura - Lobitos Cinema Project y Coast to coast
Pucallpa - La Churunga Films
Trujillo - Fundación BBVA