Sitting proudly atop a hill overlooking Lake Umayo about 35 km (20 miles) from Puno in southern Peru, the Chullpas de Sillustani are above ground tower-like tombs built by the pre-Incan Qulla culture.
The Qulla, also known as Colla or Kolla, are an Aymara speaking tribe that dominated the Lake Titicaca region before the Incas and were later assimilated by them.
They buried their leaders and nobles together with their families, food, offerings and everything they needed on their journey into the afterlife inside up to 12 m (40 ft) high funerary towers, called "chullpas". The access to these cylindrical structures was through a small opening which faces to the east towards the rising sun and was closed after the burial.
Around these "chullpas" the Colla guarded their memories and performed ritual ceremonies. The for this time highly advanced building techniques and the perfectly mummified remains of the buried Colla nobility accompanied by their riches show impressively how important ancestor worship and the deep connection between life and death was in the Aymara culture.
While "chullpas" can be found at many places across the high plains, the pre-Incan burial site of Sillustani is considered the most impressive and best preserved one.
Additionally, interesting at Sillustani is that the "chullpas" were built using two different construction techniques. The walls of the lower funerary towers that sit on a larger base are made with smaller stone blocks, while the walls of the larger structures are made of carved, perfectly fitting, massive stone blocks built on a smaller base. Even though there is still debate about it, this suggests that the Collas civilization erected the first "chullpas" with simpler building techniques and even after the Incas arrived in the area the locals continued to use the site and constructed additional towers using the more advanced Inca style.
Sillustani was declared an Ecological and Archaeological Reserve (Zona de Reserva Ecologica y Arqueologica) in May 2011 and beautifully restored a few years back.
Today some towers are in seemingly perfect shape, others are partially or completely collapsed due to natural decay, earthquakes and tomb raiders, and still others never seem to have been completed. Some unused blocks, a ramp for lifting them and a small quarry still can be found at the archaeological site which by the way is at about 4000 m (13,000 feet) height.
The nearby onsite museum displays interesting pieces from the Colla, Tiahuanaco and Inca culture.
How to get to Funerary Towers of Sillustani
Tour operators in Puno, throughout Peru and online offer simple half-day trips to the Chullpas de Sillustani daily. These tours usually take 3.5 h with an hour to 90 minutes at the site which is sufficient. Prices start at more or less S/ 60 (about US$ 20), but can easily be double that amount depending on the company and exact itinerary.
The site can be as well reached by car or taxi in about 45 minutes one way. Expect to be charged about S/ 100 to S/ 150 (US$ 30 - 45) including 1 hour waiting time at Sillustani.
More economical is taking the bus from Puno to Juliaca (S/ 4, 30 minutes), getting of at the junction to Sillustani and hopping on a combi that occasionally runs to the ruins (S/ 3, 20 minutes).
Useful information for visiting the Chullpas de Sillustani
Sillustani sits on a peninsula at about 4000 m (13,000 feet) height. Even if the sun is shining, it can get cool or cold up there, so best take a warming jacket with you.
The site is surrounded by the Umayo lake and offers next to breathtaking views a huge variety of local plants and Andean birds. So, don't forget your camera.
The funerary towers of Sillustani are still a bit off the beaten path and receive only few visitors. Nevertheless, in the afternoons when the sun is setting (best time for taking photos) and most organized tour visit the site, there might be a bunch of others with you.
Sillustani opening hours: Daily 08.30 am to 05.30 pm
Sillustani entrance fee: S/ 10
Peruvian coin featuring the Chullpas de Sillustani
To spread the diverse and rich cultural heritage of Peru, the Central Reserve Bank issued a Numismatic Series called "Wealth & Pride of Peru" containing 24 coins with the value of one Nuevo Sol. Each coin features one very special place in the country. Since February 2011 the coin honoring the Chullpas de Sillustani is in circulation and can be used as any other Peruvian S/ 1 coin.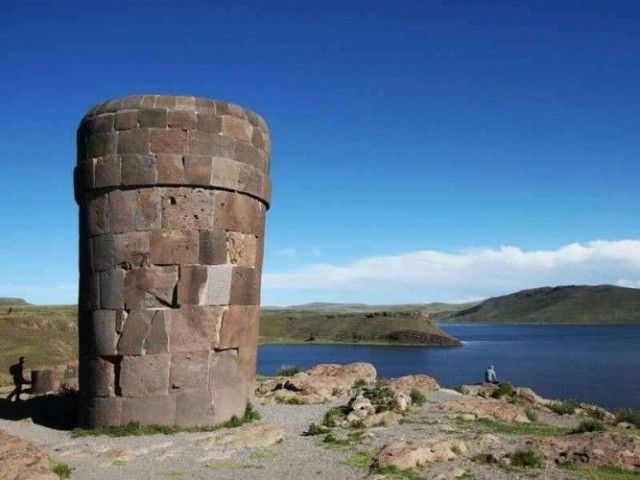 Tourist Attractions & Sights in Peru
Sitting proudly atop a hill overlooking Lake Umayo about 35 km (20 miles) from Puno in southern Peru, the Chullpas de Sillustani are above ground t...