Chilcano, or also known as Chilcanito, is one of the most popular long drinks in Peru - and my personal favorite. It is based on Peru's national drink, the Pisco, a grape brandy, which is the pride and joy of every Peruvian.
Especially in summer and on hot days, this light, easy drinkable and tasty long drink is stunningly refreshing and so delicious. It's as well a great sun-downer and, next to Pisco Sour, the drink we have when meeting friends or having them over.
For a few years now, the Chilcano is celebrated mostly in Lima each January with a week dedicated to the cocktail where variations with different fruit juices or soft drinks are presented.
Some Chilcano history
There are lots of theories and local myths surrounding the origin of Chilcano, but nobody really knows where it came from or who created this lovely, slightly alcoholic beverage for the first time. However, it is known that it appeared in Lima around the turn of the millennium (19th to 20th century) and references date back the Chilcano to the early 20th century.
While the original version of the Chilcano is prepared with Pisco, Ginger Ale, lime juice and some Jarabe de Goma (gommy or gum syrup), in the last few years people happy to try out new things started to add different fruit juices such as cranberry, passion fruit or even strawberry to name just a few or other soft drinks like of course Inca Kola substituting the Ginger Ale - lime juice mixture.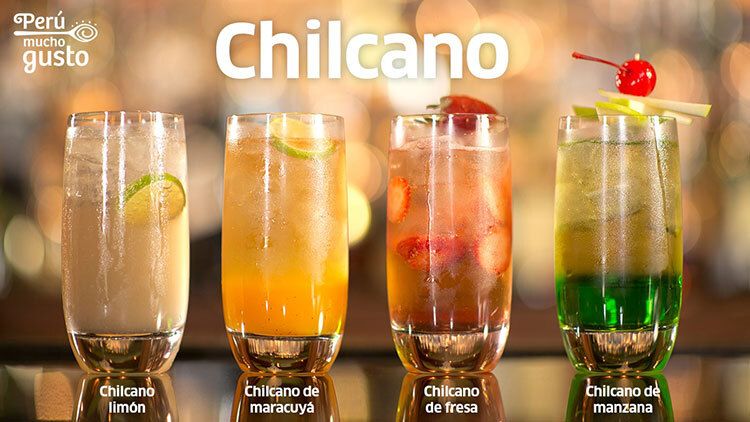 The good thing about Chilcano is that it's really easy to prepare in no time, even at home. But just mixing some Pisco with Ginger Ale and tossing in some slices of lime and ice cubes won't do it. Please do it the right way and with some style to enjoy a truly heavenly Peruvian Chilcano. Our recipe below shows you the simple steps. Please use high-quality Pisco and fresh ingredients to get the characteristic refreshing taste, quality and flavor of an original Chilcano.
LimaEasy's well tested recipe for Peruvian Chilcano
Ingredients:
120 ml (4 oz) good quality Pisco - preferable "Quebranta"
40 ml (1.4 oz) freshly pressed lime juice
40 ml (1.4 oz) Jarabe de Goma - can be substituted with white cane sugar syrup or gomme / gum syrup
ice cold Ginger Ale
2 limes
Angostura Bitters
ice cubes
The original Chilcano is prepared with Ginger Ale and lime juice, but if you are adventurous, experiment with different fruit juices and soft drinks.
Preparation:
Mix the freshly pressed lime juice with the Pisco and the sugar syrup. Cut the limes into slices.
Pour about 50 ml (1.7 oz) each into 4 long drink size glasses. Add a few ice cubes and top up with ice cold Ginger Ale.
Add 3-4 slices of lime and 3 drops of Angostura Bitters to each glass. Stir the drink carefully and serve with a straw.
Enjoy!