Peruvian Emoliente is an herbal tea popular with young and old, poor and rich, especially in the cold winter months. Sold by street vendors around the country at corners, bus stops or parks and plazas, it is part of Peruvian lifestyle and believed to have healing and protective powers.
No wonder, because emoliente is made of many Peruvian medicinal plants, herbs and seeds. A great beverage to get warm, add some minerals and vitamins to your diet and boost your body.
Ingredients vary depending on the region and availability; and, of course, every vendor has its own secret recipe adding or omitting flavors according to tradition or what's on hand. So, it's difficult to lay the finger on the ingredients characterizing a typical emoliente.
Anyway, important components are surely toasted barley (cebada tostada; believed to reduce cholesterol, may help with digestion and relieve cold symptoms), flaxseed (linaza; high in Omega-3s and fiber, supposed to stabilize blood sugar and prevent / reduce cancer) and Peruvian lime juice (limon; rich in vitamin C).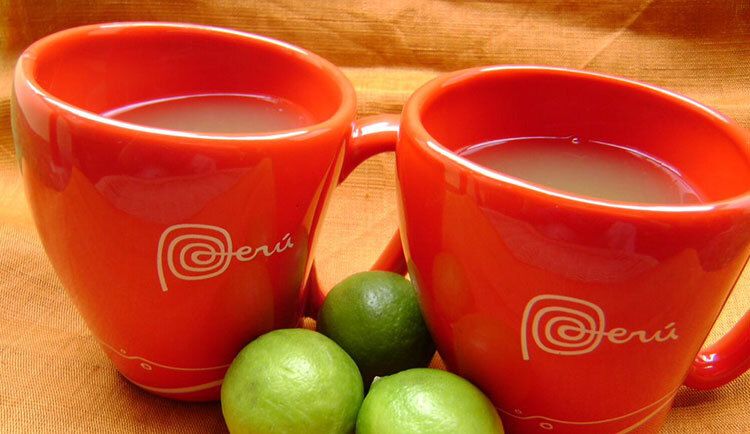 Other ingredients often used in different combinations include horsetail (cola de cabello; has diuretic properties, may help with osteoporosis and senility), boldo (supposed to help with digestion, stomach upset, even hangover), stone-breaker (chanca piedra; supposed remedy for kidney stones may help reduce blood pressure), cat's claw (uña de gato; may help with cancer treatment, inflammation, viral infection, digestive and bladder problems), plantago (also called plantain, llantén; has anti-toxic, anti-inflammatory and antimicrobial properties) and aloe vera (when used internally supposed to help with stomach ulcer, colitis and gastritis, may reduce cholesterol, may help with asthma and diabetes). Sometimes alfalfa juice (rich in vitamins and minerals), cinnamon and (brown) sugar, honey, or pollen is added.
While you find emoliente "tea bags" or ready to go mixtures in many stores and supermarkets in Peru, abroad it might be difficult. So, if you like or need to make your own emoliente, try our basic emoliente recipe and experiment with your favorite extra ingredients.
LimaEasy's Recipe for Emoliente
Ingredients:
1.5 l (a good 6 cups) water
100 g toasted barley
40 g horsetail herb
50 g flaxseed
15 g boldo leaves
1 cinnamon stick
a few leaves of mint, lemon verbena, anise or chamomile
2 limes, juiced
(brown) sugar or honey to taste
Preparation:
Bring water to a boil.
Then add the toasted barley, horsetail herb, flax seed, boldo leaves and cinnamon stick or other herbs to taste.
Let simmer for 20 to 30 minutes.
Strain, add the lime juice and sugar or honey to taste.
Serve hot and enjoy!