The Libro de Reclamaciones (Complaints Book), in Peru also known as Libro de Reclamo, is a useful tool for protecting consumer rights. It allows costumers to file a complaint against any in Peru operating company, institution or service provider – private or public – in case any kind of problem with an acquired product or service arises and no other solution with the provider can be found.
Possible reasons to file a complaint are diverse and include for example quality issues with a product or service, unauthorized, excessive or illegal charges, deceptive advertisement, bad service, unreasonable delays, violation of consumer rights, discrimination, ….
How do I get my hands on the Libro de Reclamaciones?
By Peruvian law, companies, institutions and service providers established in Peru are obligated to provide the Libro de Reclamaciones upon request. They can either give the costumer access to the Libro de Reclamaciones in paper form or online.
So, if talking doesn't solve your problem, ask for the Libro de Reclamaciones. The company must provide it.
If the company refuses to provide the physical Libro or a link to their online version, you can immediately file a complaint with Indecopi (see below).
How to file a complaint?
If the provided Libro de Reclamaciones is in paper form, it includes numbered "hojas de reclamación" in triplicate. Fill in the blanks including date, your personal data and a short explanation of your complaint. Sign and make sure the provider signs as well. One copy is yours. Keep it save.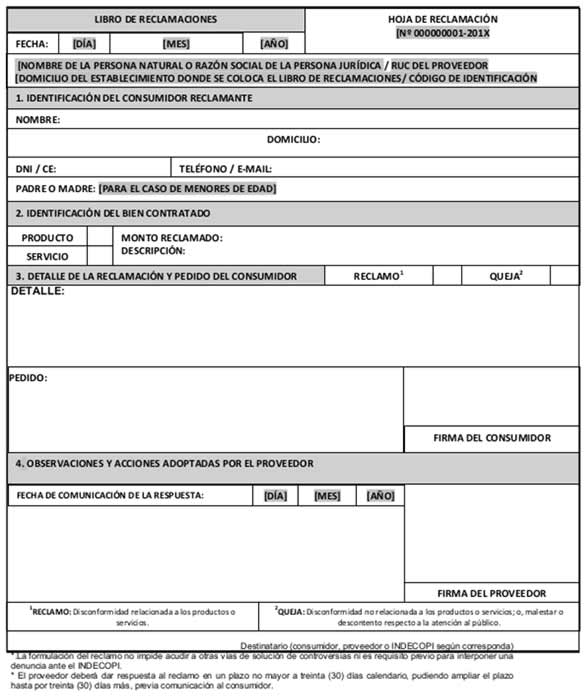 Model of a complaints form (hoja de reclamación) in the Peruvian Complaints Book (Libro de Reclamaciones); picture: Indecopi
If the Libro de Reclamaciones is online or a digital version, just fill in the blanks and make sure a copy, including registration code, is send to you.
Be aware that it is your responsibility to request one copy of the "hoja de reclamación" which includes the registration number or a copy of your online complaint with registration code.
What happens then?
Within 30 (calendar) days the company or provider must react and offer a solution to solve the disagreement or problem.
If the company or provider doesn't react to your complaint or doesn't offer a reasonable solution, you can take it one step further and file a complaint directly with Indecopi. Either visit one of their offices or file a complaint on their "Reclama Virtual" website.
You only should file a complaint with Indecopi if access to the Libro de Reclamo was refused, or the company didn't react within 30 days after submitting your complaint in the Libro, or the company didn't offer a reasonable solution to solve the disagreement or problem. Additionally, be aware that Indecopi is only in charge of complaints regarding products and service in the following areas:
Automobiles, accessories, parts, and mechanics
Entertainment and leisure
Food and beverages
Hotels and restaurants
Household appliances and technical service
Passenger transport by air, land and river
Private education services and educational items
Telecommunications equipment
Tourism services
Others
For complains in other areas get in contact with following organizations (only after you filed your complaint in the Libro de Reclamaciones):
For complaints in telecommunication services including landline and mobile phone services, pay television, internet and other telecommunications services the correct contact is Ospitel.
For banking, insurance and private pension funds complaints contact SBS.
For health service complaints get in touch with SuSalud.
For complaints in regard to electricity and fuels contact Osinergmin
For water and sewerage complaints use Sunass
Synonyms: reclamo