At the end of June and the beginning of July Lesbians, Gays, Bisexuals, Trans and Intersex as well as supporters of the LGBTI movement in Peru go out on the streets of several cities celebrating the Pride Month with several "Marchas del Orgullo" (Pride Parades).
Commemorating this year the 50th anniversary of the Stonewall riots, lesbians, gays, bisexuals, transgender and intersex once again proudly celebrate sexual diversity and gender variance, promote dignity and self-affirmation, and demand equal rights, respect and an end of discrimination and violence towards them with joy and creativity, but also firmness.
 18th Pride Parade in Lima
In Lima the 18th Marcha del Orgullo is held on June 29. The march starts at 02.00pm at the Campo de Marte and features lots of happy celebrations, live music, dancing, colorful floats, silly, outrageous, stunning and downright beautiful costumes and partying at the end of the parade at Plaza San Martin.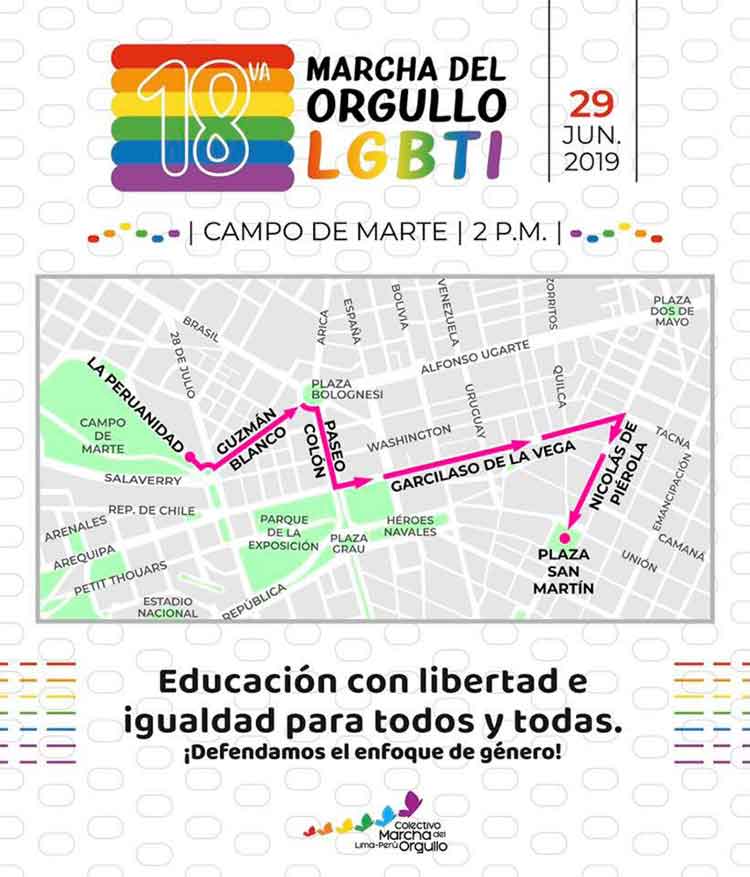 Pride Parades in other Peruvian cities
June 22, 2019
Huancayo: 1era Marcha del Orgullo LGTBQ+ Wanka (at 02.00pm Av. San Carlos with Av. Calmell del Solar)
June 27, 2019
Pucallpa: X Marcha Regional Del Orgullo LGTB - Ucayali 2019
Paita
June 28, 2019
Cajamarca: 1er Gran Plantón Del Orgullo
Chancay: 1era Marcha Orgullo LGTB+
Ica: Marcha del Orgullo
Iquitos: La Regia Marcha
Piura: Onceava Marcha del Orgullo
Tarapoto: XIV Marcha del Orgullo LGTBI
Yurimaguas
June 29, 2019
Arequipa: XII Marcha del Orgullo LGTBIG
Ayacucho: Todos Somos Iguales
Chiclayo: XII Marcha Del Orgullo y Dignidad TLGBQ+
Cusco: Marcha del Orgullo
Lima: XVIII Marcha del Orgullo
Tacna: Marcha del Orgullo LGTBI
Trujillo: XII Marcha del Orgullo
June 30, 2019
Chimbote: II Marcha del Orgullo TLGB+
July 6, 2019
Callao: 6ta Marcha del Orgullo TLGB
July 7, 2019