Facts and figures about Lima, including general info, geography, climate, key problems, population, education, transport, tourism, economy, districts and actual statistics.
Content Overview
1

General Information about Lima

 
Lima is the capital of the Republic of Peru
Largest city of Peru
28th largest city and the 24th most populous metropolitan area in the world
2nd largest capital in a desert (after Cairo)
Political, economic and cultural center of Peru
Home to one third of Peru's population
Metropolitan Lima is formed by the Province of Lima and the Constitutional Province of Callao
Time Zone:
GMT -5
Telephone Area Code:
(1) for the city of Lima / (+51) for Peru
Official languages:
Spanish (government language); spoken in Lima by 90.71% (in Peru by around 84%) of the population
Quechua; spoken in Lima by 8.15% (in Peru by around 13%) of the population
Aymara; spoken in Lima by 0.38% (in Peru by around 2%) of the population
2

Geography of Lima

 
Geographical position of Lima:
West central Peru
Located in a desert stripe between the Pacific Ocean and the Andes
Mostly on flat terrain of the Peruvian coastal plain
Within the valleys of the Chillon, Rimac and Lurin rivers
Historic city center is located at the shore of the Rimac river
Expansion of Lima:
Area of 2,672 km² (1,032 square miles)
Metropolitan Lima stretches from the north to the south along the Pacific Ocean for around 80 km (49.7 miles)
Metropolitan Lima stretches west to east from the Pacific to the Andes for around 40 km (24.8 miles)
Important Rivers:
Río Rimac, Río Chillón and Río Lurin
3

Climate / Weather in Lima

 
Climate:
Mild climate throughout the year, despite being in the tropics and in a desert
Sunny, moist and warm summers
Cloudy, humid, and mild winters
Microclimates
Temperatures:
December to May average daily temperatures range from 25°C to 32°C (77°F to 90°F)
June to November average daily temperatures are between 12°C and 20°C (54°F to 68°F)
You find more detailed information in our article "The Weather and Climate in Lima"
4

Major Problems of Lima

 
(Growth, Development, Infrastructure, Traffic, Society)
Rapid population growth
Limited space for city expansion (location in a valley, bounded on the west by the Pacific Ocean, on the east by the Andes)
No controlled urban development; especially in the second half of the 20th century, mostly informal urban development, in which people settled on the land before it even has been developed
Division of Lima into 43 separate districts, each with its own mayor and municipality (making joined decisions very difficult)
Undeveloped or even missing infrastructure in poorer areas and slums
Un- and underemployment
Immense traffic without proper public transport system
Heavy air pollution
Lack of rain
less than 70% of generated solid waste is collected; rest ends up in rivers, the ocean, or informal landfills
Social inequality
5

People in Lima

 
Population in Lima (census 2017):
Population of the city of Lima (43 districts): 8,574,974
Population of the Lima-Callao Metropolitan Area (43 districts of Lima and 7 districts of Callao): 9,569,468
Population density: around 3,000 people / km2 (more than 7000 people / square mile)
About a third of Lima's population lives in squatter settlements called "pueblos jovenes" (young towns) or "barriadas" (shantytowns)
Ethnic groups in Lima (census 2017):
67.5% Mestizo (mixed European and indigenous Indians)
17.3% Amerindian (Quechua, Aymara, Amazonian native)
7.2% White
2.8% Afroperuvian
5.2% Other
Population distribution of the Lima-Callao Metropolitan Area (census 2017):
36.6% of the population lives in the Cono Norte (North Lima) comprising the districts of Ancon, Carabayllo, Comas, Independencia, Los Olivos, Puente Piedra, San Juan de Lurigancho, San Martin de Porres and Santa Rosa
14.3% of the population lives in Lima Este (East Lima) comprising the districts of Ate, Cieneguilla, Chaclacayo, El Agustino, Lurigancho, San Luis and Santa Anita
17.8% of the population lives in Lima Sur (South Lima) comprising the districts of Chorrillos, Lurin, Pachacamac, Pucusana, Punta Hermosa, Punta Negra, San Bartolo, San Juan de Miraflores, Santa Maria del Mar, Villa el Salvador and Villa Maria del Triunfo
7.3% of the population lives in Lima Centro (Central Lima) comprising the districts of Breña, La Victoria, Lima downtown and Rimac
13.6% of the population lives in Lima Residencial (residential Lima) comprising the districts of Barranco, Jesus Maria, La Molina, Lince, Magdalena del Mar, Miraflores, Pueblo Libre, San Borja, San Isidro, San Miguel, Santiago de Surco and Surquillo
10.4% of the population lives in Callao comprising the districts of Bellavista, Callao downtown, Carmen de la Legua Reynoso, La Perla, La Punta, Ventanilla District and Mi Peru.
6

Education in Lima

 
Schools in Lima (census 2017):
Parents have the choice between costly private national and international schools or government funded public schools, which drastically lack resources.
1.3% of Lima's population older than 15 years has no school education
10.7% of Lima's population older than 15 years only has primary school education
43.8% of Lima's population older than 15 years has secondary school education
44.2% of Lima's population older than 15 years has a higher education or university education
You can find more information about schooling in Lima and Peru in our article "International Schools in Peru".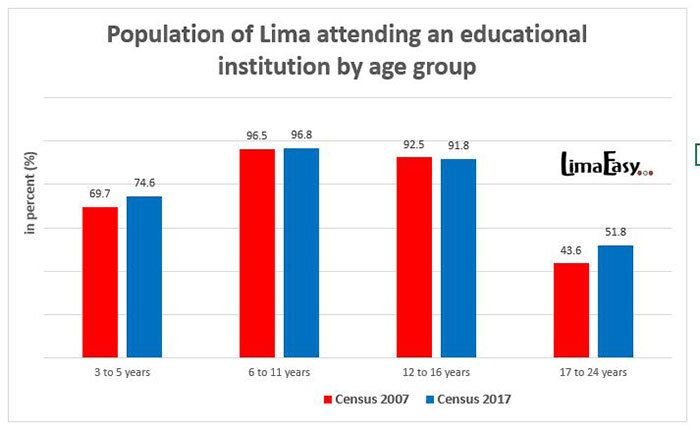 Universities in Lima:
Lima is home to many recognized public and private universities. The oldest university in the Americas, the Universidad Nacional Mayor de San Marcos UNMSM (National University of San Marcos), founded in 1551 is located in Lima.
Other top universities include:
Pontificia Universidad Católica del Perú PUCP - The Pontifical Catholic University of Peru
Universidad Peruana Cayetano Heredia UPCH - Cayetano Heredia University
Universidad de Lima - University of Lima
Universidad Nacional Agraria la Molina UNALM - La Molina National Agrarian University
Universidad Nacional de Ingeniería Peru UNI - National University of Engineering
Universidad del Pacifico UP - University of the Pacific
Universidad Peruana de Ciencias Aplicadas UPC - Peruvian University of Applied Sciences
Universidad de San Martín de Porres USMP - University of San Martín de Porres
You can find more information about higher education in Lima and Peru in our article "Top Universities in Peru".
7

Transport / Infrastructure in Lima

 
Airports in Lima:
Jorge Chavez International Airport in Callao
Las Palmas Air Base (military airport in Surco, Lima)
Port in Lima:
Seaport of Callao; located around 15 km (less than 10 miles) west of Lima's city center. It was founded in 1537 by Francisco Pizarro and since then is Lima's gateway to the world, where the majority of imports and exports move through.
Train in Lima:
Desamparados Train Station in Lima's city center; however, only one public train leaves Lima more or less regularly for a trip on the world's highest railway from Lima to Huancayo.
Main Roads from and to Lima:
Pan American Highway (Pan Americana) runs from north to south along the coast
Central Highway (Carretera Central) runs from east to west and connects Lima with the Peruvian highlands
Public Transport in Lima:
No proper system of public transportation
Main public transport is organized by tens of thousands of poorly maintained small buses and around 200,000 taxis
In June 2010 the first route of Lima's new public transportation system, called the Metropolitano was inaugurated; gas buses that drive on a newly build highway with a fancy underground bus station in Lima's City Center running from Chorrillos in the south to Independencia and since March 2019 to Carabayllo in the north. More routes are being planned.
Another ambitious project is an above ground electric mass transit system, the Tren Electrico (electric train) or Lima's Metro. Planned and started to build in the 1980s, the project lay idle for over two decades. Finally, trains started running in December 2011 on Route 1 from Villa El Salvador in the south of Lima to San Juan de Lurigancho in the north. The second route connecting Ate, the city center and Callao (airport and port) is in the process of construction.
8

Tourism in Lima

 
Visitors welcome!
Lima is a destination for itself. With its rich archaeological, cultural and historical past, the Peruvian capital has a lot to offer. Uncountable museums, amazing historical buildings, beautiful parks and the best of Peru's gastronomy make a visit worthwhile.
Visitor friendly infrastructure:
International airport
Many bus companies
Affordable taxi services
Many hotels in all categories
Travel agencies
Tour operators, restaurants
Shopping facilities
Excellent hospitals and doctors (just in case you need it)
9

Economy in Lima
Employment:
Economically active population of Lima: 5.1 million (2019)
Unemployment rate of Lima: 12% (March 2021)
Adequate employment rate in Lima: 43.8% (March 2021)
Underemployment rate in Lima: 44.2% (March 2021)
Minimum wage: S/ 930 (since April 2018)
Average wage in Lima: S/ 1,558.40 (March 2021)
GDP:
Lima produces around two-thirds of the Peruvian GDP, taxes, bank deposits, private investments, doctors and university students.
Industry & Services:
Almost all of Peru's major industries are in the Lima area
Primary products are textiles, clothing and food. Chemicals, fish products, leather, paper and oil derivatives are also manufactured and/or processed in Lima
Commercial activities are spread throughout the city
Service sector includes retail and wholesale business, trade, finance, tourism
Facts & Figures of Peru
For detailed numbers, data, and stats, as well as lots of useful information about Peru check out our extensive "Important Facts and Figures about Peru"