Before the most famous and toughest off-road rally kicks off in Lima on January 6, 2019, everyone infected with the Dakar fever is invited to join the Feria Dakar Lima and enjoy a 100% Dakar experience.
Held at the Costa Verde in Magdalena del Mar, the Dakar Fair offers visitors to meet the participants, have a chat with them, get an autograph or even snap a photo.
Furthermore, visitors get the possibility to admire the impressive vehicles and learn more about their features and modifications. Cars, quads, bikes, SxS and trucks will as well participate in a great parade.
Young and old will also have lots of fun with the entertainment program which includes live music, motorcycle acrobatics shows, a Dakar video game zone, a road safety workshop for kids, Dakar themed head-in-hole photos, a batucada session, a Dakar souvenir shop, food trucks, raffles and other surprises. Additionally, the Dakar Museum informs about the history of the rally with before unpublished info, lots of photos and a video worth seeing.
On January 6, when the Dakar starts, visitors can be even closer to the action and bid farewell to participants; while on January 17, at the end of the rally, they can welcome them back und celebrate.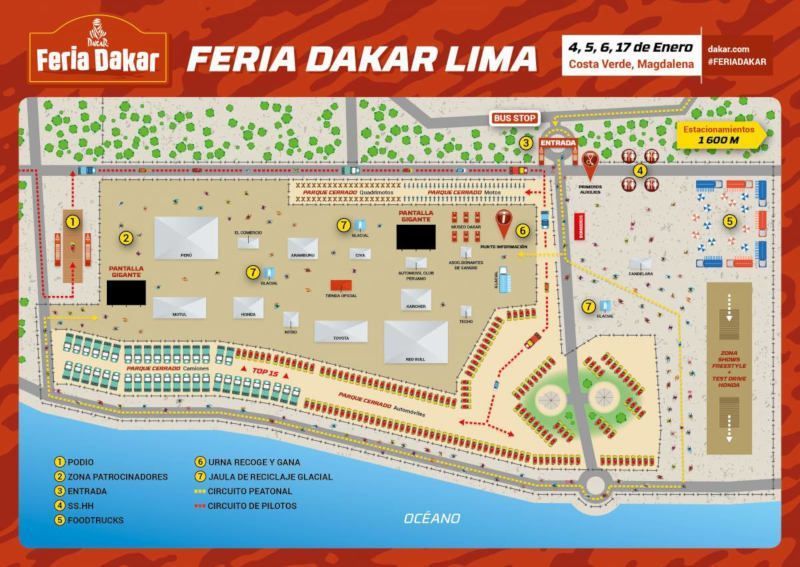 Find more interesting details about the Dakar in our articles Dakar 2019 in Peru and Dakar Rally 2019 in Peru - Some facts and challenging changes to the program